How it all started
In 1998 Blackshaw Parish Council discussed the idea of a millennium map which would include a bit about the history of the Parish. Judith Crossley, a long time resident of Charlestown, Parish clerk and a fountain of stories about pre war Charlestown set us to thinking where is Charlestown and does it have a history.
A few like minded people were recruited and after several rambling sessions in the Woodman we decided that it would be a good idea to call a meeting to see if people were interested.
Upstairs at the Woodman, a single light bulb, double booked with a rock band was not an auspicious start, but a dozen enthusiastic people turned up for both meetings. We heard lots of stories, rumours about characters in the district and had a rare old time.
The initiative sort of went to sleep for several months with 2 or 3 people doing interviews with longstanding residents.
The lottery grant
In June 1999 we decided that we needed some method of sharing the material that was slowly being gathered. We decided that a web site was the obvious solution as it could be added to as we went along. The problem was that nobody knew how to do it and we had no funds.
We then discovered that we fitted the criteria for a Millennium Lottery grant and decided to apply. This meant that we had to set up the group properly with a constitution and bank account. The inaugural meeting was held on October 4th at the Stubbing Wharf Hotel (unfortunately the Woodman had just closed -another bit of history that has gone!). The officers elected were:
Jo Kessel (Ferney Lee) secretary, Richard Peters (Undercragg) chair, Dorothy Clarkson (archivist) and Lizzie Lockhart (Jumble Hole) treasurer.
Designing the web site
The lottery grant didn't come through until March and we had until August to complete the task. Unfortunately this meant that the four officers have spent all their time sorting out the design (we hope that you think that it was worth it).
Local events
The group has leafleted the whole of the district and held regular meetings.
We have also made visits to local archives and held two local history walks.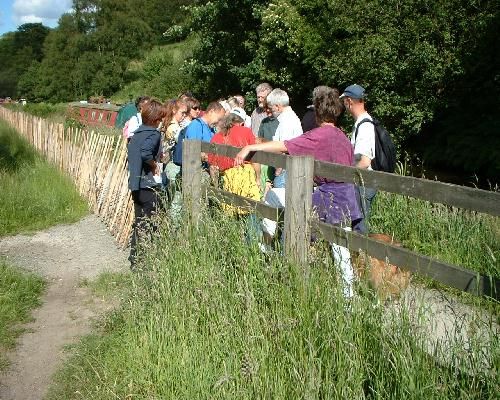 Current situation
The group was wound up in 2011 and Hebden Bridge Local History group took over the group's assets and agreed to host the website.
This page was last updated December 2011.