Archive
We have created this page to prevent the main site getting clogged up with too much information. It contains detailed information linked from the main pages.
This page contains further information on:
Underbank

Building of Sandbeds sewage works

Grave stones at Mount Olivet Chapel

Photos of Eastwood Chapel and performances there

Grave stones at Eastwood Chapel

Bridge Royd Mill

Jumblehole water system
UNDERBANK
Who lived where?
Families and households interchanged their dwellings in Charlestown in the 19th century in a manner unfamiliar with us today. In 1839, when land was sold to the railway company, George Ashworth appeared to be living in Underbank Hall, and a family named Sanderson was living in Lacy House. By the 1841 census, George Ashworth, described as a Woollen Merchant aged 50, was resident in Lacy House, together with his wife, Mary and six children. There were also four other residents, possibly lodgers. Ten years later the 1851 census records two households living at Lacy House: Duncan and Hannah Kemp and their four children, plus two lodgers and a servant, and Edward and Hannah Stead with their four children. Only two of these fifteen people, the Steads' two middle children, were born in the area, the others coming from Scotland, Wales, Liverpool, Manchester, Bury, Salford and Leeds. The youngest Stead child, six-year-old John, was the one born in Leeds and he was to reappear at Lacy House forty years later on the 1891 census return as the widowed head of his own household comprising his six children, aged twenty-two to eleven years. His occupation was Fustian Cutter and his two sons, aged 16 and 18 years, were Fustian Finishers' Assistants.
The thirty year lease taken out by the Ashworths expired in 1855. Prior to this, in 1852, Christopher and Charlotte Rawdon of Elm House, and James and Matilda Rawdon of Derwent Lodge, both in Liverpool, sold Underbank Hall, and Lacy House in a large land deal including Rawtenstall Wood, Dove Scout, Solomon's Temple and the lands surrounding them to Thomas Fielden of Wellfield House, Cheetham Hill, and John Fielden of Centre Vale. (The indenture between the parties went into great particulars over water extraction rights).
In March 1855 Thomas Fielden and John Fielden sold the properties to Gilbert Lacy of Mytholmroyd - Gentleman, David Lacy of Underbank Hall - Cotton Spinner, and John Lacy of Waterside. The Lacy brothers were the nephews of Thomas and John Fielden, and were also connected by marriage over many centuries to other wealthy and influential manufacturing families in the area. From the addresses given at the time of the sale it would seem that David Lacy was already managing Callis Mill and John Lacy was based at the Fielden power centre of Waterside Mill in Todmorden.
The sale related to Underbank Hall and outbuildings and land; Spa and Spa Hole wood, Spa Hole Mill; all dwellings and lands from Cow Bridge to Lacy House; Underbank Field or Great Brink; Jumble Hole Mill and Dyehouse; Lacy Laithe; Solomon's Temple; Dover; Callis Mill (and a note adds that it was rebuilt at the expense of Gilbert, David and John Lacy) and Sandbed.
The Rebuilding of Underbank House
The building of the New House that replaced the Great House at Underbank.
John Lister Horsfall's account book records the pulling down and building of the present day Underbank house (short of the Thomson's modifications of course). The following is a summary.
First a sled road was made to allow stone to be pulled from Castle Hill to Underbank. Work began on March 10 and finished on March 20, 1834. This stone was used for "fronting" and for rebuilding some field walls. The road was then brought across the Higgin house and the Orchard field. This required 5 people and another to cut trees and cost 2 pounds, 18 shillings and 6 pence.
On March 24 Sam Barnes was engaged to remove slates from the existing house and Mr. Appleyard was paid to remove the rubbish. The costs incurred to pay for this work was 14 shillings and 12 pence. There is no doubt that the present house contains old stone from the original house and perhaps some from Bethlehem.
Next "liner" was brought in which probably means interior stone or brick for chimneys and kitchen stoves. The cost was 100 shillings and started on April 18 and ended in August. Stone getting commenced March 8 and continued until September 6, 1834. Cost was 94 pounds, 46 shillings, and 22 pence.
Masons, Eastwood, Dewhirst and Greenwood started work on March 21 and ended on June 20, 1835. Their fee was 224 pounds, 10 shillings and 6 pence. This also included work done by blacksmiths.
Carpentry was provided by Henry Parson(s?). Work began on May 10, 1834 and ended on June 21, 1835. The cost was 100 pounds, 12 shillings and 6 pence. Plastering commenced on October 31, 1834 and finished June 27, 1835. 33 pounds, 24 shillings and 3 pence were spent for these services.
These costs totalled 453 pounds, 224 shillings and 60 pence. This would be an enormous sum in today's currency.
BUILDING OF SANDBEDS SEWAGE WORKS
These photographs were rescued when Yorkshire Water was clearing out the pumphouse. The staff of the sewage works have created a museum with artifacts, photos and other documentation of the sewage works history.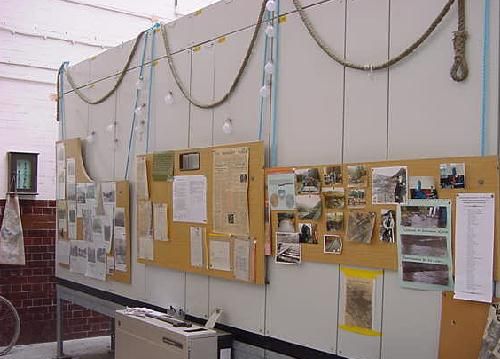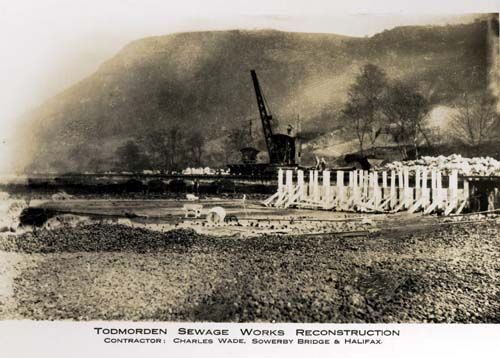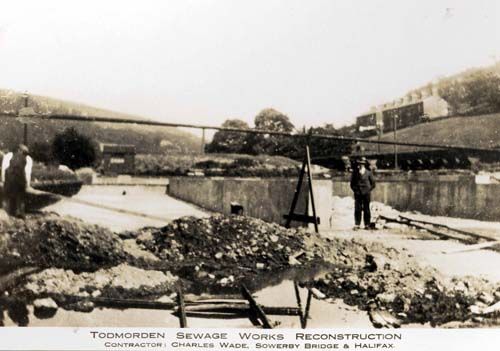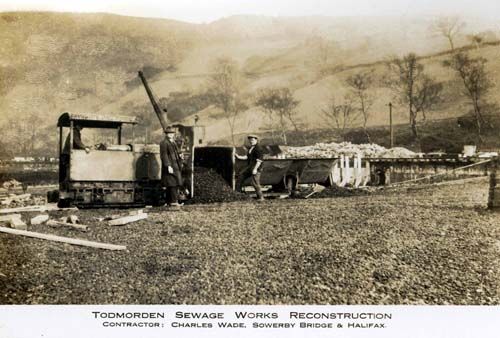 The sewage ram pump was made in Manchester by Whitehead and Poole Ltd. The original pump was steam powered, converted to electricity in 1926. The pump had many problems with frequent blockages and the pumping was extremely slow, taking eight or nine hours to de sludge the two storage tanks.
The pump was last used in 1981. In 1997, when the new sewage plant was under construction, it was planned to break up the pump and dispose of it as scrap. The staff intervened to save it, ensuring it was dismantled and reinstalled after the works were completed.
Three promotional photos of the Sewage Pump and controls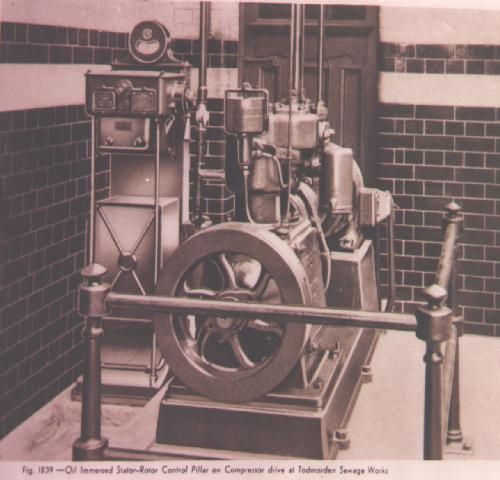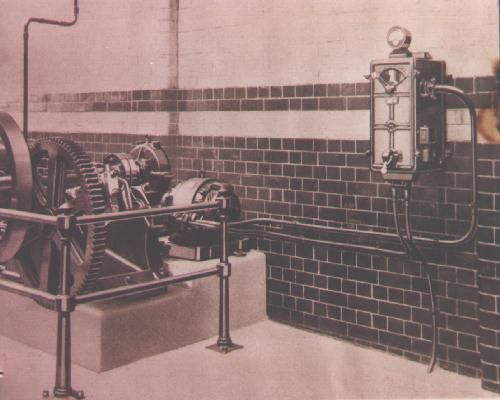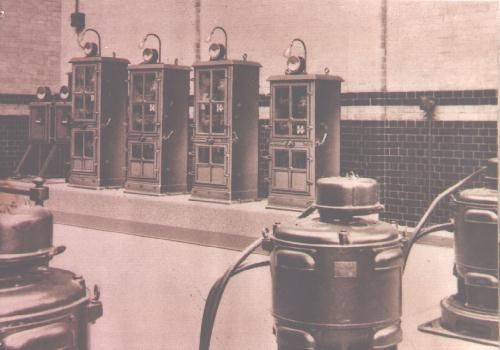 In 1926 the sewage beds were upgraded with a .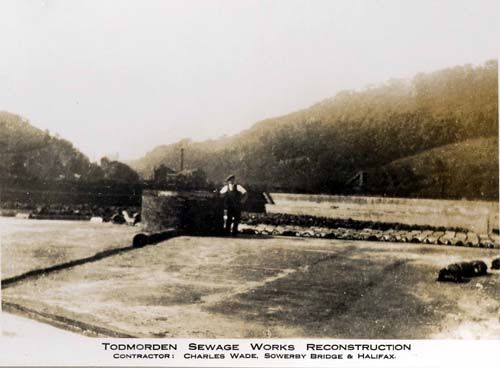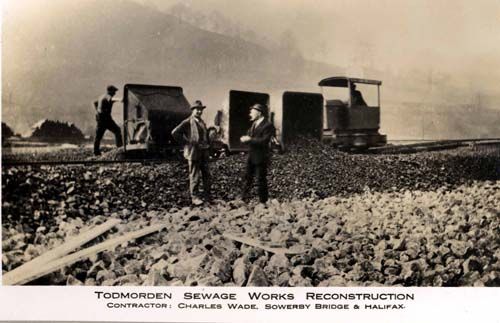 The chimney in the distance is Callis Mill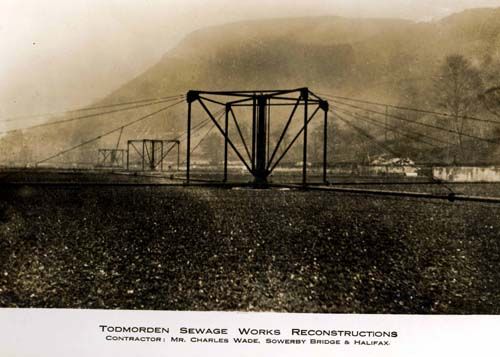 GRAVESTONES AT MOUNT OLIVET CHAPEL
To aid people wanting to trace their families, we are including photos and transcripts of the gravestones in Mount Olivet Chapel. One thing that immediately strikes you is the number of young children who did not survive more than a few years.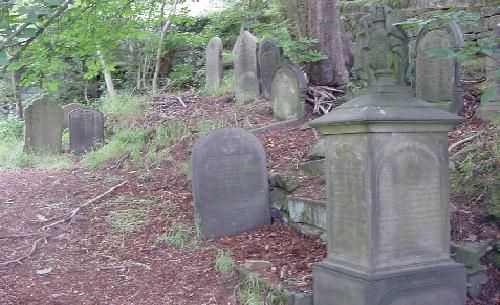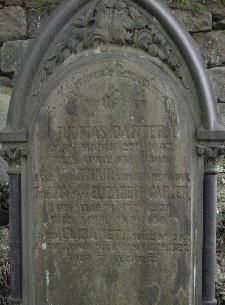 Thomas Carter, born March 27th 1847, died April 13 1900
Also Arthur, son of Thomas and Elizabeth Carter, born March 12 1873, died April 15th 1880
Also Elizabeth, wife of above, died January 13th 1922 aged 78 years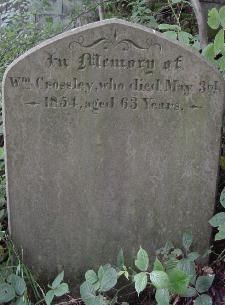 William Crossley who died May 3rd 1854, aged 63 years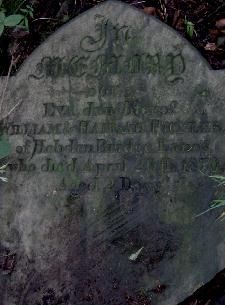 Eva Daughter of William and Hannah Pickles of Hebden Bridge Lanes, died April 20th 1870, aged 2 days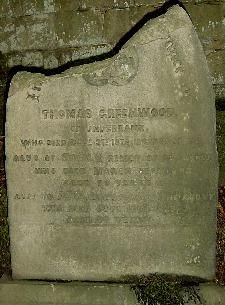 Thomas Greenwood of Underbank, died December 21st 1878, aged 59 years
Also Sarah, relict of above, died March 21 1895, aged 70 years?
Also Anne daughter of above, died December 26th 1929, aged 77 years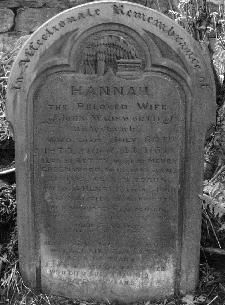 Hannah Beloved wife of John Wadsworth of Underbank, died July 20th 1875, aged 24 years
Also Betty, wife of Henry Greenwood, died January 21st 1882, aged 71 years
Also of Henry son of John and Martha Wadsworth of Cowhurst, Stansfield, died January 25th 1886, aged 5 years Thy will be done
Also John, the above named, died in May 31st 1932, aged 80 years
Also Martha the above named, died 1912, aged (blank) years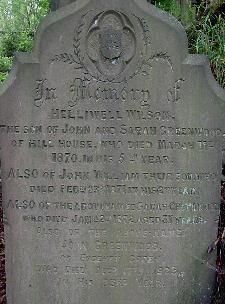 Helliwell Wilson, son of John & Sarah Greenwood, died March 11th 1870 in 5th year
Also John William Newson, died February 23rd 1871 in 2nd year
Also above named Sarah died January 2nd 1872 aged 37 years
Above John Greenwood of Edgehey Green, died December 17th 1925 in 83rd year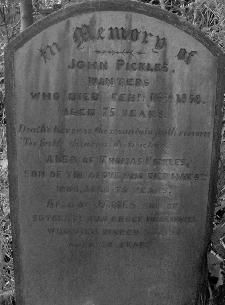 John Pickles, Winters, who died Febuary 16 1858 aged 75 years
Deaths terror is the mountain faith removes. Tis faith disarms destruction?
Also of Thomas Pickles, son of above, died May 9th 1886, aged 70 years
Also of James, son of Sutcliffe and Grace Helliwell, died March 3rd 1890, aged 36 years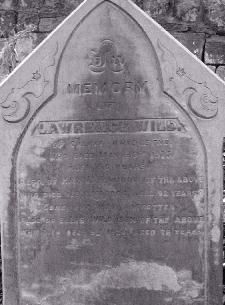 Lawrence Wild of Callis Bridge End, died May 20th 1875, aged 56 years
Also Hannah, widow of above, died February 23rd 1904, aged 92 years, gone but not forgotten
Also Ellis Wild, son of above, died December 9th 1924? aged 76 years
Mary Daughter of James and Judith Hodgson of Charlestown, died May 24th 1875 aged 22 years and 11 months
Also William, their grandson, died March 24th 1879, aged 9 months
Also the above Judith Hodgson, died July 10th 1884, aged 63 years
Also James, her husband, died February 11th 1889 aged 72 years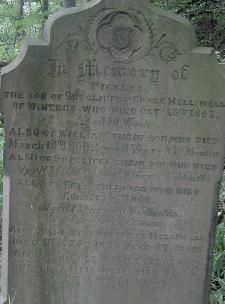 Pickles Son of Sutcliffe and Grace Helliwell of Winters died October 26th 1862 aged 10 weeks
Also William, their son, died March 19th 1868, aged 6 years and 10 months
Also Sutcliffe, their son, died April 27th 1868, aged 2 years and 9 months
Also Fred their son, died August 15th 1869, aged 1 year and 6 months
Also an infant of theirs
Also of the above Sutcliffe Helliwell, died December 24th 1859, aged 47 years
Also Grace, relict of Sutcliffe Helliwell, died September 2nd 1899 aged 66 years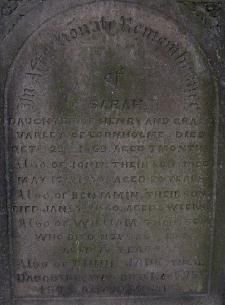 Sarah, daughter of Henry and Grace Varley of Cornholme, died October 1869, aged 7 months
Also John, son, died May 17th 1879 aged 20
Also Benjamin, son, died January 7th 1880, aged 5 weeks
Also William, son, died November 26th 1881 aged 18
Also daughter, Annie Jane, died November 25th 1884, aged 10 months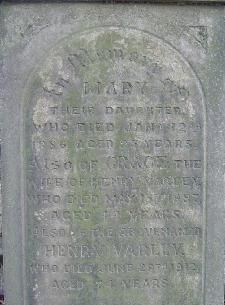 Mary, their daughter, died January 12th 1886, aged 25 years
Also of Grace, wife of Henry Varley, died May 15th 1887, aged 44
Also of above named Henry Varley, died June 29th 1912, aged 74 years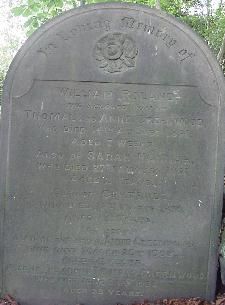 William Roland, beloved son of Thomas and Anne Greenwood, died 14th August 1891, aged 7 weeks
Also of Sarah Hannah, died 27th August 1891, aged 2 years
Also of Gertrude, died 14th March 1899, aged 18 years At rest
Also of the above Anne Greenwood, died March 28th 1908, aged 54 years
Also of the above Thomas Greenwood, died June 23rd 1933, aged 78 years
EASTWOOD CHAPEL
Here are further photos of the chapel and Eastwood Players.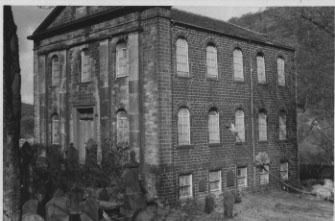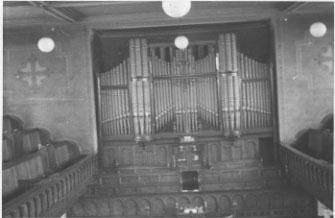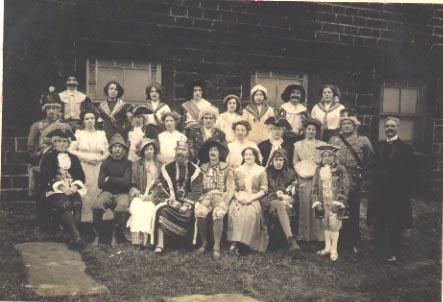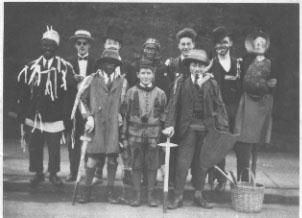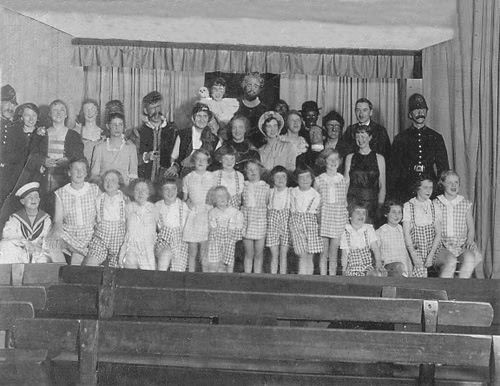 Three performers in the centre are identified: the lady in the bonnet is Doris Stevens, the principle boy on her right is Winnie Hill (who was a stand-in and learnt her lines in 4 days) and the figure with the moustache to her right is Percy Sutcliffe.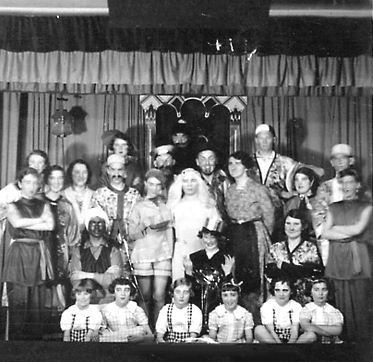 The 'chorus girls' in the front row (left to right) are D.Appleyard, K.Jennings, T.Britton, G.Dawson, K.Campbell and B.Jennings. The woman with the black apron is identified as Hilda Kershaw.
The man on the right is Mr. Mills the Chapel minister.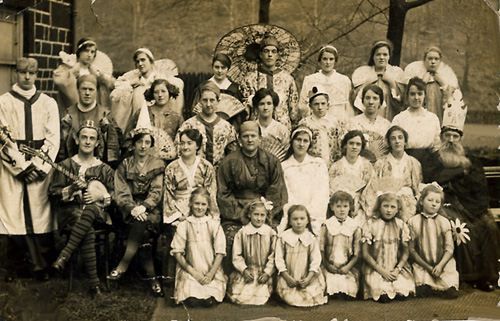 The performers were (from the right):
Front row: Bernice Hitchen, Connie Halstead, Evelyn Sutcliffe, Hilda Cockroft, unknown, Winnie Hartley.
Second row unknown man and woman, Minnie Hartley, Hilda Kershaw, unknown man, Mary Sutcliffe, unknown woman, Herbert Hartley.
The only identified performer in the third row is left of centre who is Ronald Sutcliffe.
The names of the back row are unknown.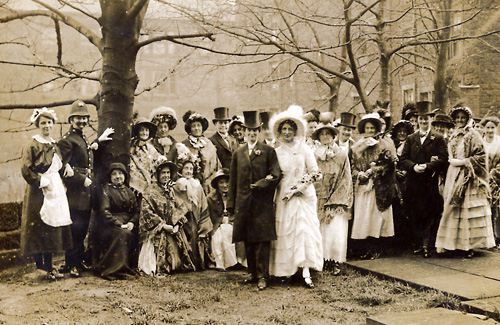 This was an all women cast with the groom played by Maria Lomas and the bride by Annie Barker. The only other identified performer is front row left who is Mrs Fielde, the caretaker of the Sunday school.
GRAVESTONES AT EASTWOOD CHAPEL
The graves begin at about 1850 which coincides with the date of the opening of the new chapel. The latest date is about 1930s.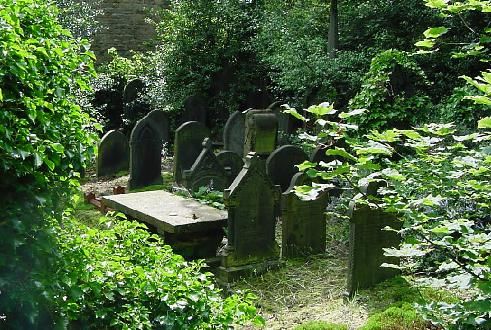 There are too many grave stones at Eastwood to include photographs. The alphabetical list below is based on the first name on the gravestone, with where they lived and date of death. Unfortunately it is too great a task for the group to record all the other family members (we hope that someone will volunteer!).
Grace Anthony, Eastwood, 1916

Hannah Ashworth, Tod., 1883

Matilda Ashworth, Wood Mills, 1851

Balmforth, 1825

Emily Fielden Barker, Mount Pleasant, 1893

Ernest Barker, Victoria Terrace, 1869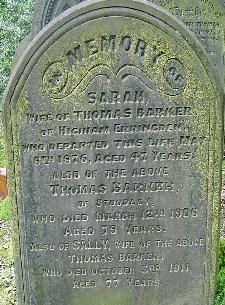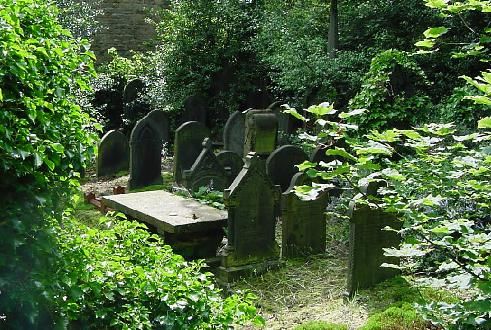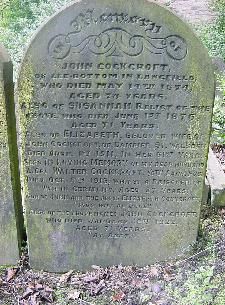 Sarah Barker, Burnt Acres, 187?

William Barker, Burnt Acres, 1860

Mary Barnes, Beeton 1844

George Bentley, 1819

George Bentley, 1848

Grace Bentley, 1849

Henry Bentley, 1844

Mary Bentley, 1851

William Bentley, 1850

Caroline Binns, Barker St. Tod, 1933

Hannah Blackburn (wife of Rev), 1837

Ellen Butterworth, Robinwood Bridge End, 1887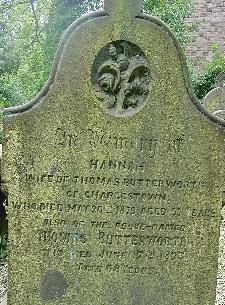 Hannah Charnley, Myrtle St. Tod 1899

Ann Cockcroft, Old Royd, 1872

Henry Cockroft, Roomfield Lake, Tod, 1872

Mary Cockroft, Cockden Hill, 1890

Suzey Cockcroft, 1891

Chester Crabtree, 1872

Ellen Crabtree, Callis, 1874

Ethel Crabtree, Castle Grove, 1894

Hannah Crabtree, Tod., 1895

Suzey Crabtree, East Lee, 1865

Horsfall Dawson, Wood Bottom, 1833

Lucy Dawson, Eastwood 1901

Robert Dawson, Blackley, 1903

Peggy Dearden, 1833

Suzey Dugdale, Cowbridge, 1855

James Eastwood, Millwood, 1874

Hannah Fielden, Eastwood, 18??

Harry Fielden, Cockden, 1845

James Fielden, Cockden, 1856

James Fielden, 502, Halifax Road, 1908

Ellen Greenwood, Burnt Acres, 186?

Enoch Greenwood, Burnt Acres Wood Bottom, 1911

John & Margaret Greenwood, Duke Street, 1868

Joseph Greenwood, Underbank, 1859

Margaret Greenwood, Duke street, 1905

Alice Greenwood, Duke Street, 1881

Mary Greenwood

Sarah Greenwood, Duke Street, 1864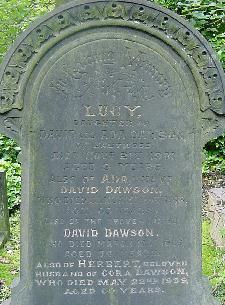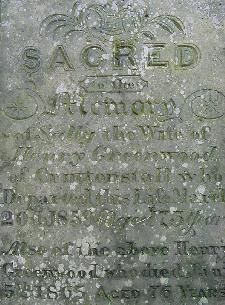 Suzey Greenwood, Smithy Bridge, 1874

Thomas greenwood, Stabley Coat, 1865

William Greenwood, Greystone, 1851

George Halstead, Oaks, 1858

John Halstead, Burnt acres, 1809

John Halstead, Eastwood, 1871

Kenneth Halstead, Willow Bank House Tod,

Robert Halstead, Rumfield Lane, 1861

John Hartley, Oaks, 1868

Isaac Hartley, 1855

Mary Helliwell, Charlestown, 1852

Hillingworth, 1809

Elizabeth Hodgson, Robinwood terrace, 1883

Betty Horsfall, 1876

James Horsfall, Luddendenfoot, 1847

Betty Howarth, Shade, 1851

Grace Howarth, Oldroyd, 1877

Ann Jackson, Charlestown 1855

Betty Jackson, Mutterhole, 1873

Sarah Jackson, Cowbridge, 1831

Thomas Jackson, Eastwood, 1871

Mary Jowett, Cobden, 1888

George Albert Leah, 1877

Mary and Edmund Lord

James May, Broading Top, 1887

Simon Milns, 1918

Wiiliam Nicholl, Wood Bottom, 1878

Thomas Oldfield, 1900

Mary Oliver, 1848

John Peel. Eastwood, 1894

Herbert Pickles, Duke Street, 1897

James Pickles, 1838

Thomas pickles, Tenterfield Cottage, 1852

Pilling, Shaw Bridge, 1843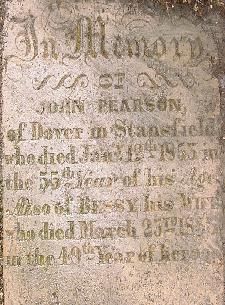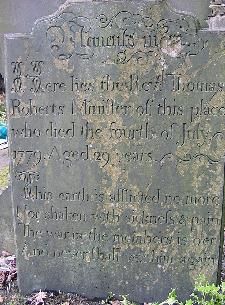 William Roberts, Woodland View, 1901

Hannah Roscoe, Victoria Terrace

Elizabeth Sanderson, 1839

Sally Schofield, Wood Bottom, 1880

Ann Sharples, Woodhouse, 1855

Joseph Sharples, 1861

Matilda Shuttleworth, Stoodley Cottage, 1898

Joseph Smith, 1868

Suzey Spencer, Springfield Terrace, 1897

Arthur Stansfield, Cockden, 1879

Sarah Stansfield, Eastwood, 1901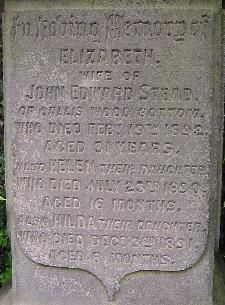 George Stead, Callis, 1863

Elizabeth Stocks, Millwood, 1850

John Stott, Spa Hole, 1850

Fred Sunderland, Callis 1885

Daniel Sutcliffe, Nellcote, 1895

John Sutcliffe

Joseph Sutcliffe, 1844

Joseph Sutcliffe, Cockden Hill, 1887

Sarah Ann Sutcliffe, Burnt Acres Wood,

Stephen Suttcliffe, Horsewood, 1869

Hannah Leah Uttley, Tod., 18741824

Thomas Sutcliffe, 1811

William Sutcliffe, 1816

Wiiliam Sutcliffe, Withings, 1839

John William Thomas,

Martha Thomas, Duke Street, 1884

Benjamin Tunks, Woodmill, 1878

Thomas Whitehead, Roundfield, 1851

Jane Whittam, 1848

Hannah Wood, Stoodley Glen, 1922
FURTHER INFORMATION ABOUT BRIDGE ROYD MILL
History of the mill
1870 Hebden Bridge. Fustian cutters: Moss, Hague; Moss, John; Moss, Joseph. Not dyers.

1887 -93 Moss Bros., fustian manufacturers.

1897 The mill was owned by J. V. Battiscombe and another and leased (a 999 year lease at £82 per annum) to James Moss, Frederick Hague Moss and Abraham Moss, trading as Moss Brothers, fustian dyers and finishers.

1901 Moss Brothers took out a mortgage with The Halifax Joint Stock Banking Co. Ltd.)

1902 Moss Brothers (Hebden Bridge) Ltd. included James, Abraham and Frederick Hague Moss. 93 of the 100 shares issued to the English Fustian Manufacturing Co. Ltd. 'in accordance with the agreement of purchase'.

1903 The company's assets were worth £37056.

1905 The freehold of the Dye Works and 'Bridge Royd House' and the barn were sold to English Fustian Manufacturing Co. Ltd. by Lucy M.Cecil and Charles Cecil.

1910-30 still used by English Fustian for dying and finishing, 700 looms.

1982 The English Fustian Manufacturing Co. Ltd. of Hebden Bridge went into receivership and was sold to M. Chapman & Sons (Textiles) Ltd.
1930 Valuation of Bridge Royd by Eddisons, Estate Agents ~ Surveyors, Huddersfield
We are not sure why this valuation was done, but it provides a detailed description of the buildings and the equipment.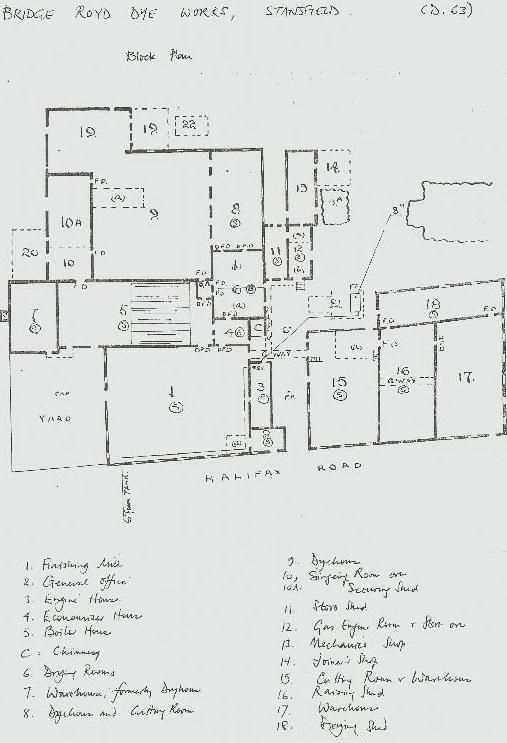 BUILDING 1 Three storey Finishing Mill, stone built, 73ft by 67ft (1655 square yards of floor area). Top Floor Piece Rolling Machines, Cutting Machine, Steam Stretching and Gas Drying Machine, Piece Measuring Machine, Calendar Machines, Raising Machine, Breaking Machine, Brushing Machine, Old Hand Cutting Machines. First Floor Open Tentering Machine, 42ft long to take up to 34 inches wide, Brushing Machines. Breaking Machines, Pegging Machine, Piece Plaiting Machines, Size Mixing Pans, Stiffening Machines, Piece Drying Ma chine. Ground Floor Size Mixing Pans, Stiffening Machines, Drying Machine, Brushing Machine, Piece Examining Frame.

BUILDING 1a Small office.

BUILDING 2 General office, stone built. 30 square yards floor area.

BUILDING 3 Engine House, stone built. 41ft x 13ft . 240 I.H.P. Horizontal Compound Condensing Engine. 'Martha', 6 groove rope fly wheel, 12ft diameter, 3-groove rope pulley. By Ebor Engineering Co. Ltd, 1895. Hand barring engine.

BUILDING 4 Economizer House, stone built, with room over and outside wooden staircase. Ground Floor Green's patent fuel economiser, 160 pipes, by E. Green & Sons Ltd., 1930.

LONG CHIMNEY Stone and brick built.

BUILDING 5 Boiler House and Firing Place, with Dressing Room over, including staircase to Drying Stove. Stone built, 80ft x 33ft. Top Floor Examining Stands, Dressing Frames. Brushing Machines. Boiler House Two Lancashire Boilers, each 30ft long, 9ft diameter, by Yates and Thorn, 1916.

BUILDING 6 Three storey stone-built Drying Rooms with railed floors and drying racks, 35ft x 29ft. 32 square grate bars for Stove. Firing tools.

BUILDING 7 Three storey stone-built Piece Warehouse and basement with railed floors, 35ft x 24ft.

BUILDING 8 Two storey Building: Dye-house with Cutting Room over, 63ft x 28ft. Stone and brick built. Top Floor Cutting Room. Fustian Circular Knife Cutting Machines. Ground Floor Dye-house. Cast-iron Dyeing Machine, Washing¬off Cisterns, Wringer, Jigger or Piece Dyeing Machines, Dyer's Office.

BUILDINGS 9 and 19 Dye-house, brick and stone built. 669 sq. yds. floor area. Wringing Machines, Cooling Cistern, Jiggers or Piece Dyeing Machines, Water Cistern, Scouring Cisterns, Washing-off Machine, Washing-off Cisterns, Stone Bleaching Cistern, Brick Bleaching Cistern, Old Donkey Engine out of use. Hydro Extractor.

BUILDING 10 Singeing Room, brick-built, over 10A. 23ftx 17ft. Singeing Machine.

BUILDING 10A Scouring Shed, brick built. 68ft x 22ft. Singeing Machines, Scouring Machines, Delivery Cisterns, Piece Draining Table, Piece Rolling Machine.

BUILDING 11 Store Shed over Yard, brick built. 60ft wood gangway and 14 rise steps.

BUILDING 12A & B Brick and wood two-storey Building. Top Floor Store Room. Ground Floor Gas Engine Room. 5 H.P. Crossley's 'Otto' Gas Engine, Dye-ware Store and Lavatories.

BUILDING 13 Mechanic's Shop, brick built, with blacksmith's hearth and wood lean-to. Lathe, Blocks and chain, Anvils, Trough, Tools.

BUILDING 14 Joiner's Shop, wood-built.

BUILDING 15 Building used as Cutting Room and Warehouse, two storey and part basement. Wood gangway to Building 1. Top Floor Warehouse. Ground Floor Cutting and Dynamo Rooms. Cord Cutting Frames, Cutting Machines, Verity's 20 H.P. 'Aston' electric motor, 100 volts. 800 revs. 3 K-W Electric Dynamo, 110 volts, 425 revs. by Mylan and Smith Ltd. Switch Board. Battery Charging Sets. Basement Waste Store Room.

BUILDING 16 Raising Shed. Stone built. Raising Gigs, Raising Machines.

BUILDING 17 Three storey, stone-built Piece Warehouse. 985 sq. yds. floor area. Top Floor First Floor Piece Truck Ground Floor

BUILDING 18 Drying Shed, stone built, 67ft x 17ft. Piece Drying Machine, Stiffening Machine, Flour Bin.

BUILDING 20 Brick and wood-built lean-to Store Shed. BUILDING 21 Brick-built Pump Shed. Vertical Boiler, Sprinkler or Fire Pump by Mather and Platt Ltd.
THE WATER SYSTEM IN JUMBLE HOLE CLOUGH
Much of the water system described below is on private land and some of the stonework is quite unstable and therefore unsafe. Because of this, we request that you do not attempt to explore the system.
In this section we are trying to map and photograph what remains. The last remaining question is whether and how Staups dam by Great Rock connects with the Jumble Hole system.
Staups Mill system
Staups Mill had a small dam which is above the mill. This probably indicates that it fed an overshot water wheel, although there are no signs of where the wheel was.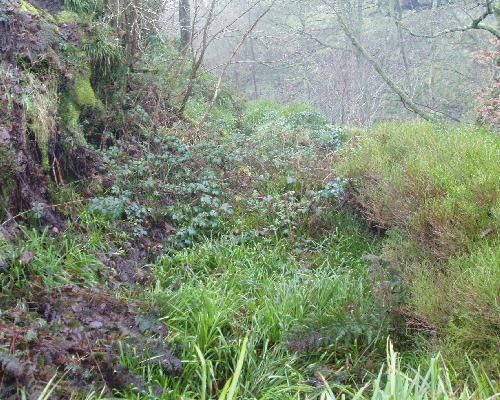 The dam was connected by a long underground goit which was fed by the stream at the foot bridge.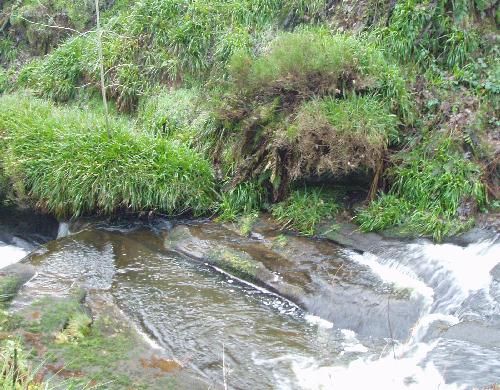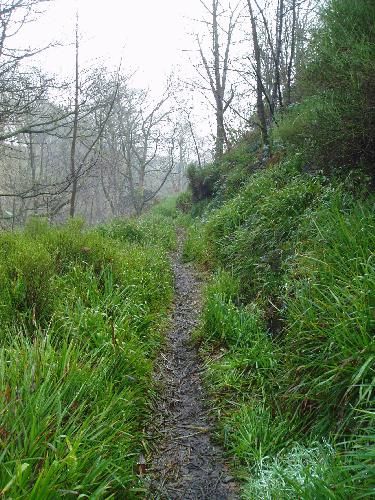 Probably a dry stone tunnel.
Cow Bridge Mill system
The Cow bridge system started as an insignificant connection to the river only now indicated by the remains of an old metal sluice gate.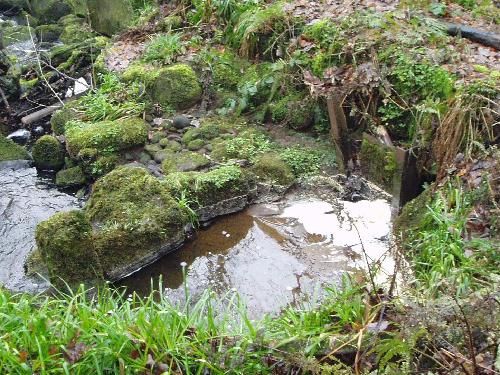 The water then followed an open channel which winded it way through the rocky side of the clough.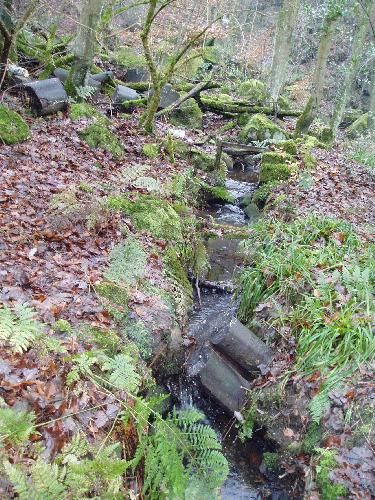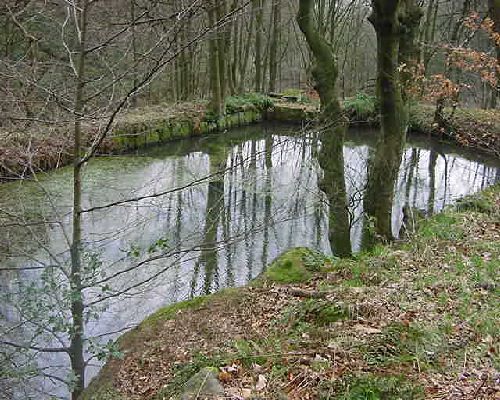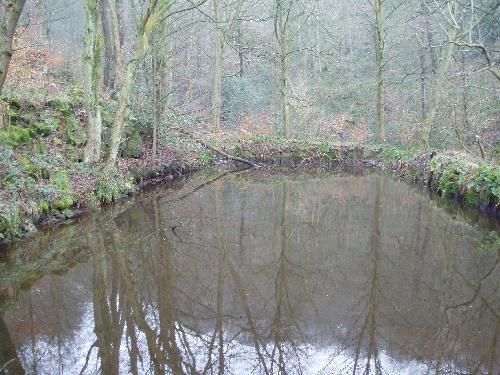 By the side of the track, above the dam was a small dwelling for the water keeper. This dwelling was known as the Kings Chair (as opposed to Queens seat which was the equivalent for the Spa Mill system).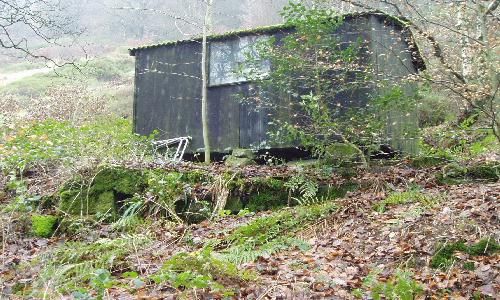 The dam had a small overflow channel leading into the clough, which can still be seen on the North side of the dam.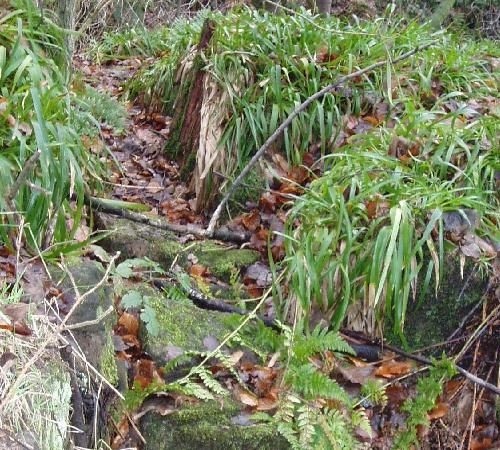 The Mill dam is still intact thanks to Mr Greenwood (now sadly deceased), a hydro electric enthusiast who generated power for his own house. He connected the dam exit to piping left over from various water works and connected them to a small turbine generator. He also designed lifting gear for the sluice which was raised in the evening on his way home from Callis mill and lowers on his way to work in the morning.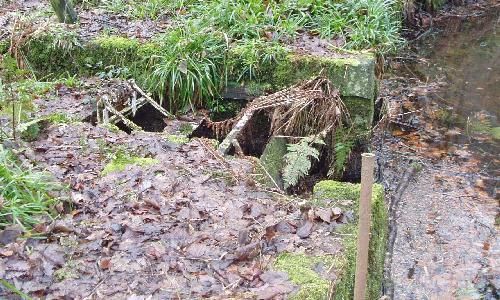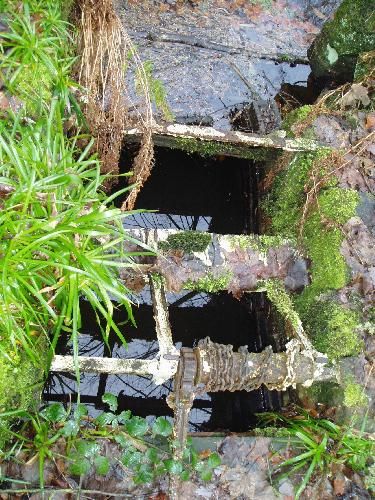 The electricity generated fed the lighting at Broad Dean (if you look carefully, you can still see the wiring attached to trees and posts.
He had to fight the River Authority for many years, but in the end they gave in when he started quoting 17th century common law in riparian rights!
Spa Mill system
This begins at Cow Bridge where there is a magnificent concave weir. Just above the weir is the remains of a sluice gate.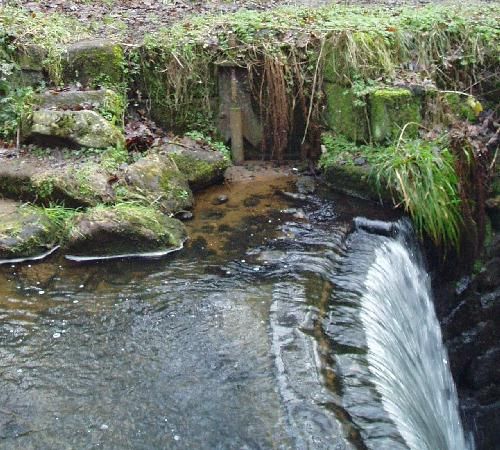 The weir lifted the level of water, allowing it to enter the goit which was controlled by a metal paddle. The sluice directed water into a goit which went under the track and along to Spa Mill dam.
Just below the the dam walls is the remains of a small dwelling for the water keeper. We are told that the name of this dwelling was known as the Queens seat'.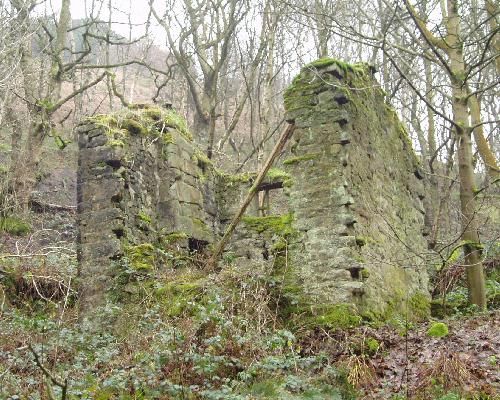 The goit emerged on the other side of the track and followed a channel into a dam which although it is now overgrown, you can see the retaining walls from the track below.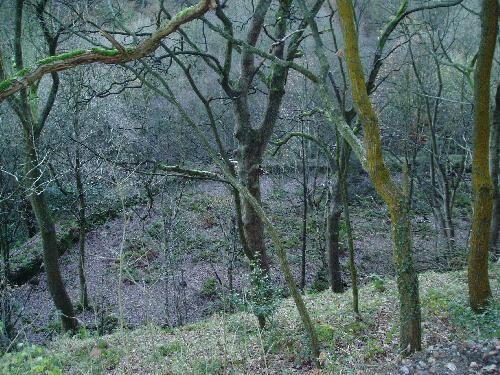 At the far end of the dam the water was let out through a sluice down into the mill, probably feeding an overshot water wheel.
From the bottom of the wheel chamber, the excess water entered an underground goit which ran alongside the track towards the Jumble Hole Mill system. Part of the goit can be seen from the track.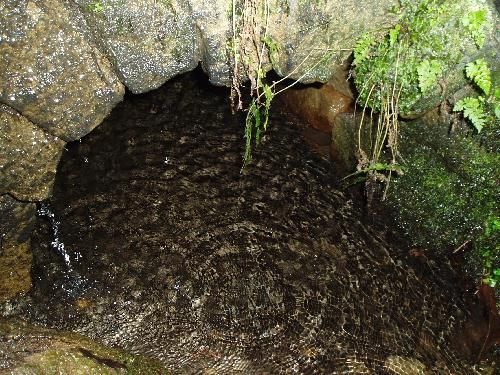 Jumble Hole Mill system
The goit ran into the top end of Jumble Hole dam, above Jumble Hole mill. The overflow ran under the top and bottom tracks, emerging out of the stone wall bank of the clough.
Just a reminder that much of the water system is on private land and some of the stonework is quite unstable and therefore unsafe. Because of this, and to ensure that nothing is damaged, we request that you do not attempt to explore the water system.
This page was last updated April 2009